Internet Transit
Networkmaine's selection and use of Internet Service Providers (ISP) is designed to provide members with reliable and high performance Internet access service. Networkmaine subscribes to three Internet Service Providers totaling over 50 Gbps of aggregate bandwidth. Each vendor's service is equally accessible and allows our members to utilize the redundant routes inherent in MaineREN's design for resiliency. By combining the geographically diverse routes of MaineREN and multiple Internet peering points, members are assured of adequate capacity and fault tolerance at the most cost effective price.
Internet 2
Networkmaine is a regional connector to Internet2, the national research and education network consisting of over 440 leading universities, corporations, healthcare and government institutions. Internet2 provides a unique set of global capabilities to the Networkmaine membership for the development of new applications and services specifically designed for the research and education communities – including a 100 Gbps backbone network that delivers unparalleled performance and reliability and a suite of compelling above the net services.
Dedicated Research Network
The Maine Low Friction Network ('MELFN') is a realization of a Science DMZ network – a portion of the network dedicated to science applications enabling high bandwidth low-latency data exchange. The MELFN was envisioned and created in 2019 among the University of Maine, Colby College and The Jackson Lab.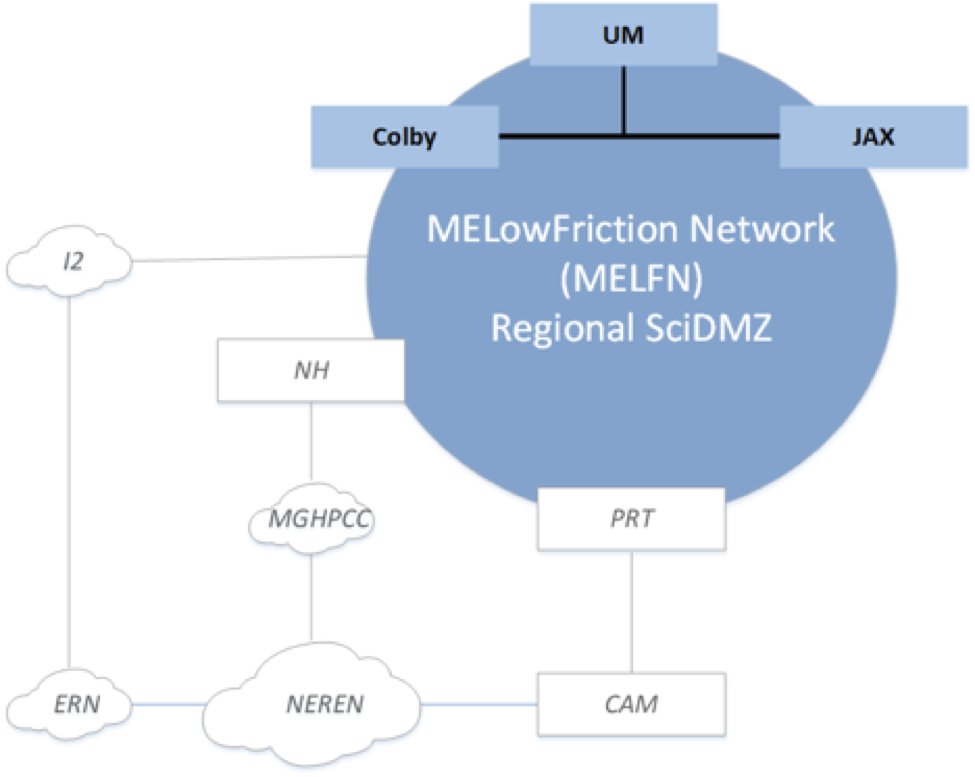 Dedicated 10Gbps circuits provide maximum throughput unaffected by any other network traffic. This network is built and positioned to grow should opportunities arise as well as extend outside of Maine to reach other SciDMZ partners or networks.
Cloud Access
Amazon Web Service
Microsoft Azure
Google Cloud Platform
Managed Router Service
For members who do not wish to maintain their own router or for those who participate in the MSLN project, Networkmaine can provide an installed, monitored, and managed edge router. 24×7 circuit monitoring and trouble resolution is also included in this service, for both leased Telco lines and Networkmaine MaineREN circuits. The provided equipment will be refreshed as necessary, end-of-life, end-of–support, increased capacity, etc.